50% Complete
Where should we send the instructions to grab your ACV capsules 100% free today?
E-mailSend Me This Deal! >>Start Now
Your personal information is safe and will never be shared or sold.
TODAY'S Exclusive Amazon Giveaway:
Just Launched, Normally $14.99?FREE Today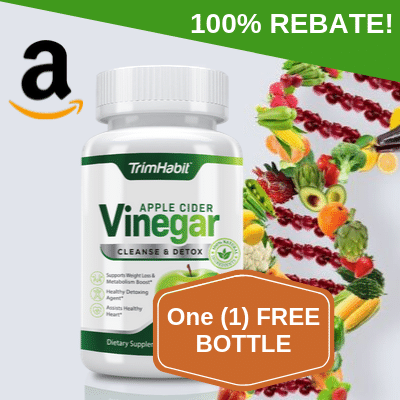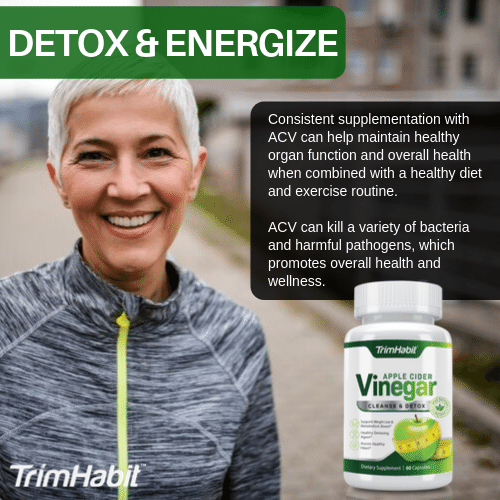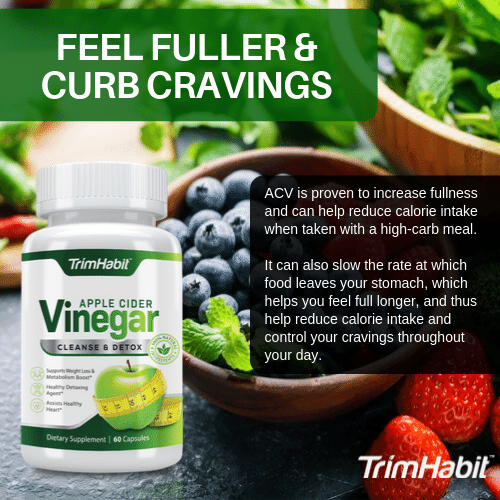 All the benefits of ACV without the acidic and sour taste.
You've heard of all the benefits of apple cider vinegar, but it's not so easy to drink a few tablespoons every day. These convenient and small ACV capsules make it super easy to get all the benefits of ACV in just one serving a day, taken with a meal.
Proven to help you lose weight.
In one study of overweight adults, the groups that supplemented with ACV – WITH NO OTHER CHANGES TO THEIR DIET OR ACTIVITY LEVELS – had noted decreases in body weight, waist circumference, and body fat percentage compared to the placebo group.
Feel fuller and curb your cravings.
ACV is proven to increase fullness and can help reduce calorie intake when taken with a high-carb meal. It can also slow the rate at which food leaves your stomach, which helps you feel fuller longer, and thus helps reduce calorie intake and helps you control your cravings throughout your day.
Detox & energize, and support healthy organ function.
Consistent supplementation with ACV can help maintain healthy organ function and overall health when combined with a healthy diet and exercise routine. ACV also kills a variety of bacteria and harmful gut pathogens, which helps promote overall wellness and healthy organ function.
Regular Price $14.99
Today: Yours FREE

This Deal Expires:
Get This Deal on Amazon.com[Limit One Per Customer]
"I love, love these capsules!"
To celebrate the Amazon release of our NEW Apple Cider Vinegar Capsules, TrimHabit is giving away 100 bottles!
Why Trust Us?
Nate – Founder
Yes… that's the same person, me. But a few years and 50 lbs apart.
I tried for years to lose weight with different "diets", but I never made any progress until I finally developed healthy habits instead of jumping around to different diets.
At TrimHabit we've developed a small line of high-quality products to support you in your health goals, and our ACV capsules are now available on Amazon. To get the word out, we are giving away 100 bottles!
Who Are We?
TrimHabit is a small, family-owned business based in Wyoming & Utah. We craft each and every one of our products with the highest-quality ingredients and every attention to detail.
In an effort to launch our products in a big way on Amazon and generate social buzz, we're giving away 100 bottles of our new Apple Cider Vinegar Capsules for free.
All we ask in return for you getting a free bottle is that you'll take a selfie with the bottle once you get it and post the photo on Facebook.
How This Works…
You'll need to register to receive the rebate instructions via email because if we were to post the information directly on Facebook or the internet, we would get way too many orders.
We're a small company with limited resources and and we've set aside 100 bottles for this very limited promotion.
All rebates will be processed via Paypal within 48 hours.
Frequently Asked Questions:
Why are you giving your products away for free?
We are hoping you'll share the product with your friends and family on Facebook and through word of mouth. When your friends ask you why your skin is glowing lately ?(among other benefits), tell them to search for TrimHabit on Amazon.
Do I need to register to be eligible for the rebate?
Yes. We're a small company with limited resources and we can only give away 100 bottles. We don't want anyone to be disappointed so you must register via email to get the rebate information. If we were to post this directly on Facebook, we would get way too many orders for this promotion.
How long does it take to get my money back?
Great question. Most other "rebate" offers take 30 days or more to send you back your money. We rebate your purchase back within 48 hours via Paypal, which is the main reason our customers love our promotions so much.
Is leaving a review on Amazon required?
Not at all. Leaving a review in exchange for a promotion goes against Amazon's terms of service. While it's not required, if you would like to leave a review if you find our products helpful, you are free to do so.
Can I get more than one?
No, sorry. Since it is a 100% rebate, we only have a set amount of units set aside for this promotion, so it's limited to one per customer. For that same reason, this page might come down at any time once the limit is reached, so to ensure you get your free bottle, move onto the next step here…
Ok, what do I need to do to get this deal?
Just go back to the steps above and follow them. It should only take 2-3 minutes total.
Today, Yours FREE.

Guaranteed safe and secure checkout via Amazon.com.
Get This Deal on Amazon.com[Limit One Per Customer]

MenuCloseTerms of UsePrivacy Policy
? 2019 Copyright TrimHabit. All Rights Reserved
*These statements have not been evaluated by the FDA. These products are not intended to diagnose, treat, cure or prevent any disease.